PopCorn Machine (Machine Only)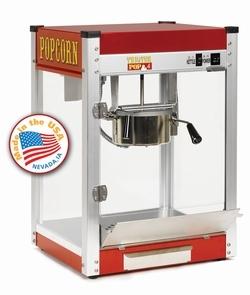 Description
Our popcorn machine rental is perfect for any occasion, whether it's a movie night, party, or event. This popcorn machine is easy to use to make delicious popcorn in minutes. The machine not only makes popcorn quickly but also fills the room with irresistible aroma of freshly popped popcorn.

If you want to take your popcorn experience to the next level, you have the option to add our all-in-one kits to your rental at checkout. These kits include pre-packaged corn, coconut oil, and salt ingredients, so you don't have to worry about measuring or mixing, just pour it in the machine and enjoy. Also included in the kits are 72 popcorn bags. This is perfect for those who want an easy and hassle-free popcorn machine.

For bigger events, we also offer the option to order extra concession supplies from our separate webpage. Just go to party extras and click concession supplies. This includes a variety of popcorn flavors, popcorn bags, and other items to ensure that your guests have a memorable time. With our rental service, you can have a professional-grade popcorn machine and all the supplies you need without the need to purchase your own.