Brandon MS Bounce House Rentals
FunVentures is dedicated to providing the best service to the residents and businesses of Brandon, Mississippi. All of our inflatable bounce houses, combo units, obstacle courses, and water slides are picked based on safety, entertainment, and visual appeal. We strive to not only provide the best products to you but to also provide reliable delivery times, clean and disinfected units, and a five star customer service. FunVentures is a veteran owned and operated, in addition to being central Mississippi's fastest growing bounce house rental company. For any questions visit our FAQS page or feel free to call 601-665-2887 and we will be glad to answer any questions.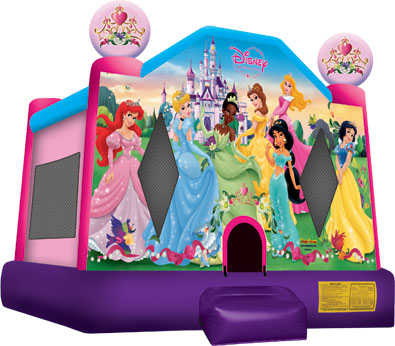 Disney Princess Bounce House
Feel the magic unfold with our new Disney Princess Bounce house. Join Ariel, Cinderella, Tiana Belle, Jasmine, Aurora, and Snow White as they embark on a playful adventure. Displaying vibrant colors, several of the princesses, and Disney castle, this bounce house could easily compliment a little girls' celebration, be a great addition to a weekend sleepover, or provide magical fun for many other occasions.

As one of our largest, the Disney Princess Bounce House offer an area 15'L x 15'W to jump and play for hours. Mesh fabric on every side ensures that children can still be seen. This is an officially licensed Disney unit.
Get Details Now!
Bounce House Rentals In Brandon MS | Parks and Recreation
Brandon MS
is known for it's beautiful and vibrant public parks and here at Fun Ventures, we have supplied just about every one of them in the greater Jackson Metro with the best bounce house rentals in Brandon MS. Due to the possible changes in their policies and procedures from year to year, please be sure to check out the City of Brandon's website if you plan on having your next special event at a local park. We also suggest you ask if amenities are provided such as electricity and water at your desired party location prior to booking online. If such things are not provided by the city, no worries, we also offer generator rentals and water hose extensions. Please call the park staff or visit the
Brandon Parks and Recreation
site for more information prior to booking your next event, just to make sure there are no extra surprises during set-up or pick-up! For any reason a bounce house rental in Brandon MS isn't allowed at the park we invite you to visit our home page and browse our extensive collection of inflatables designed for smaller settings, such as a backyard or inside gym area. Bounce house rentals are just one part of the many services our company offers. We offer many other event rentals such as but not limited to:
Dunk Tanks
Special Effects & Sound
Tent Rentals
Obstacle Courses
Inflatable Games
Make sure you check out the rest of our inventory, there's should be no issues finding the perfect Brandon bounce house rental for your next event!
Free Delivery to Select Areas

Take advantage of these huge savings! FunVentures offers free party equipment delivery to Florence, Jackson, Pearl, Brandon, Flowood, Reservoir, Byram, Madison, Ridgeland, Clinton, Star, Harrisville, and Raymond. We do service other communities, so, if your location is not listed, please contact us at (601) 665-2887 for delivery fees.
Service Member Discounts

FunVentures is proud to support our community service members in uniform. Military, Police, Fire, and other first responders are top on our list. Please let us know if you are an active member of one of these services, and let us tell you about the great discounts we offer. Thank you for your service! We couldn't do what we do if it weren't for what you do.