Madison MS Bounce House Rentals
FunVentures is dedicated to providing the best service to the residents and businesses of Madison, Mississippi. All of our inflatable bounce houses, combo units, obstacle courses, and water slides are picked based on safety, entertainment, and visual appeal. We strive to not only provide the best products to you but to also provide reliable delivery times, clean and disinfected units, and a five star customer service. FunVentures is veteran owned and operated, in addition to being central Mississippi's fastest growing bounce house rental company. For any questions visit our FAQS page or feel free to call 601-665-2887 and we will be glad to answer any questions.
Special Offer:

Enter promo code Madison5 when ordering online and receive 5% off of your order. This promo code is only valid for deliveries in the City of Madison and not valid for our discounted packages.
Bounce House Rentals In Madison MS
FunVentures has a vast selection of bounce house rentals. We offer true free local delivery to Madison and the surrounding areas. Do not be fooled by our competitors who advertise free delivery but charge a fuel surcharge that is hidden in the fine print.

See all of our Madison MS Bounce House Rentals
Brandon Bounce House Rental Alternative:
18' Dual Lane Purple Typhoon
The 18' Dual Lane Curve Purple Typhoon is sure to be a big hit this year. Get ready for a wildly fun ride with one of our newest water-slides for 2019! Not only does this 18' slide have two lanes to race down, but each lane curves around for maximum fun before ending in a pool of water.

And that's not all! This slide has a higher slide platform than all of our competitors' 18' water-slides, which means that there is more slide for the most fun possible. In addition, sturdy handrails are attached on each side of the stairs, as well as on the stairs themselves. A mister hose at the top of the slide platform ensures that there is a steady supply of water, and strategically placed netting at the top increases safety.
Get Details Now!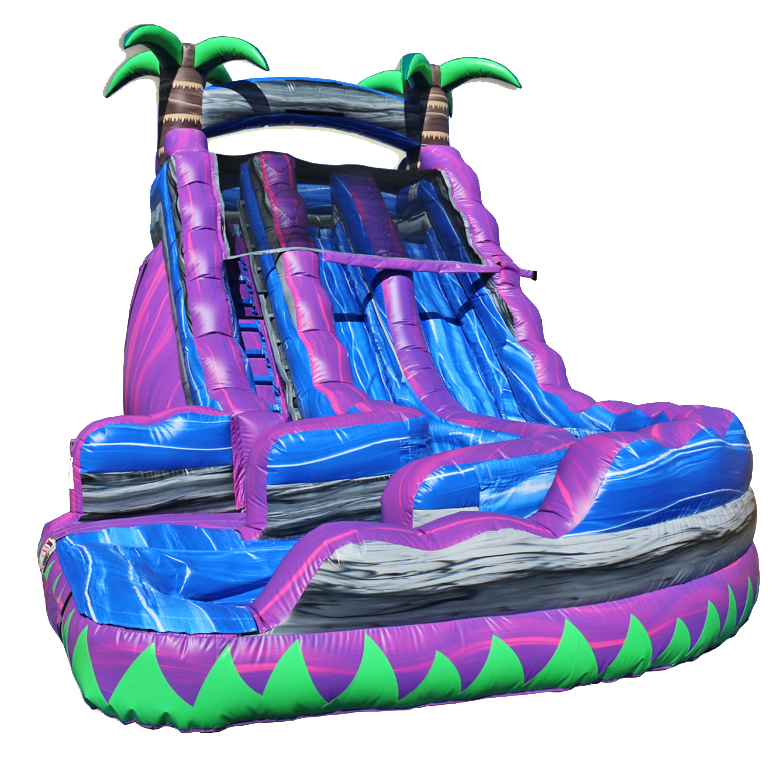 Free Delivery to Select Areas

Take advantage of these huge savings! FunVentures offers free party equipment delivery to Florence, Jackson, Pearl, Brandon, Flowood, Reservoir, Byram, Madison, Ridgeland, Clinton, Star, Harrisville, and Raymond. We do service other communities, so, if your location is not listed, please contact us at (601) 665-2887 for delivery fees.
Service Member Discounts

FunVentures is proud to support our community service members in uniform. Military, Police, Fire, and other first responders are top on our list. Please let us know if you are an active member of one of these services, and let us tell you about the great discounts we offer. Thank you for your service! We couldn't do what we do if it weren't for what you do.