Flowood MS Bounce House & Party Rentals
FunVentures is dedicated to providing the best services to the residents and businesses of Flowood, Mississippi. All of our inflatable bounce houses, combo units, obstacle courses, and water slides are picked based on safety, entertainment, and visual appeal. We strive to not only provide the best products to you but to also provide reliable delivery times, clean and disinfected units, and a five star customer service. FunVentures is veteran owned and operated, in addition to being central Mississippi's fastest growing bounce house rental company. For any questions visit our FAQS page or feel free to call 601-665-2887 and we will be glad to answer any questions.
Flowood Mississippi's Best Bounce Houses
FunVentures has a vast selection of bounce house and party rentals. We offer true free local deliveries to Flowood and the surrounding areas. Bounce houses are great year round for birthday parties, family reunions, corporate events, church festivals, and more.

See all of our Flowood MS Bounce House Rentals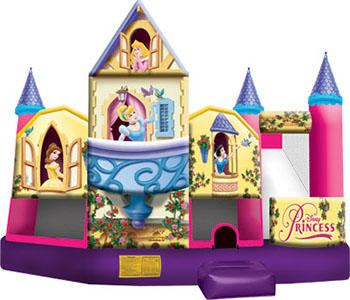 3D Princess Combo Bounce House
The Disney Princesses are sure to bring some magic with this 3D 5-In-1 combo! With its awesome 3D imagery, this licensed combo-style bounce house is a home for classic princesses Belle, Snow White, Cinderella and Sleeping Beauty. Girls will enjoy reigning over their castle, while boys can play the part of the gallant princes! This combo-style bounce house features a realistic 3D balcony for Cinderella and many other spectacular details to make the experience one-of-a-kind!

These exciting inflatable bounce house rentals are great center-piece attractions for any party. Not sure what you need? Call us at (601) 665-2887 and one of our party pros will be happy to assist you with recommendations.
Get Details Now!
City of Flowood Parks and Recreation
Looking for a place to have your bounce house birthday party? The City of Flowood has several local parks where pavillions or spaces can be reserved to host your party. Unfortunately at the moment there is only one park that allows inflatables that is Winner Circle Park at pavillion number four. To read park policies and to make reservation just
click here.
Free Delivery to Select Areas

Take advantage of these huge savings! FunVentures offers free party equipment delivery to Florence, Jackson, Pearl, Brandon, Flowood, Reservoir, Byram, Madison, Ridgeland, Clinton, Star, Harrisville, and Raymond. We do service other communities, so, if your location is not listed, please contact us at (601) 665-2887 for delivery fees.
Service Member Discounts

FunVentures is proud to support our community service members in uniform. Military, Police, Fire, and other first responders are top on our list. Please let us know if you are an active member of one of these services, and let us tell you about the great discounts we offer. Thank you for your service! We couldn't do what we do if it weren't for what you do.